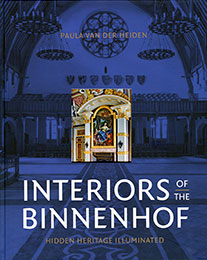 Interiors of the Binnenhof. Hidden Heritage Illuminated
Author: Paula van der Heiden.
Photography: Dick Valentijn
Translation: Susan Ridder

Hardcover, 240 pp, 24 x 29.7 cm
ISBN 9789079156504
Price € 19,95


The Binnenhof is the symbol of Dutch democracy. Established about eight centuries ago, the Counts of Holland built a palatial residence here, the Grafelijke Zalen, including the eye-catching Grote Zaal (Great Hall) or Ridderzaal (Hall of Knights). As it combined work and living spaces, the Binnenhof gradually turned into the administrative centre of the counts' lands. In later centuries, it became the seat of the Dutch government, which it still is today. Unusually, the Binnenhof is open to the public: everyone can 'enter' through the gates and admire the façades. Many buildings, including the Ridderzaal and the Chambers of the Senate and House of Representatives, are very well-known. But there is more, the many halls and rooms, galleries and stairs, ballrooms and basements are suffused with the spirit of people and events of days gone by. However, this is not a museum. Here the States General, the Council of State and the Prime Minister work on the history of the future.
In words and images, this beautifully illustrated book opens doors that would otherwise remain closed, providing unique insight into the rich variety of interiors behind the well-known façades. These interiors not only tell stories of the past, however: above all, they display a rich cultural heritage hidden in the heart of The Hague.


<Homepage<